Developers – mark the date Friday 10th June 2022 in your calendars.
This is the final day for submission of applications to Approved Inspectors (AIs) for current regulation transitional period to apply in relation to energy efficiency, ventilation and overheating, and EV charging points for new domestic and non-domestic buildings in England and Wales.
The official transitional period for updates to Approved Documents Parts F (ventilation), L (energy), O (overheating) and S (EV vehicle charging points) begins on Wednesday 15th June 2022.
While initial notices for building control must be submitted by this date for transitional arrangement to apply, AI building control providers such as Premier Guarantee require five days' notice to ensure  applications are lodged officially with the local authority.
How transitional arrangements will apply
It is normal for building regulation changes to be introduced through a transitional period, during which time and assuming qualifying criteria are met, the existing regulations remain in force. Yet for three of the four areas of regulation being introduced this year, the qualifying criteria will differ slightly.
For all four areas of regulation, transitional arrangements will apply when the appropriate building notice, full plans application or initial notice has been submitted by Wednesday 15th June 2022 and work has commenced by Wednesday 15th June 2023.
For Parts F, L and O, the qualifying criteria of "work commenced" will apply on an individual plot/single block basis.
For Part S, the qualifying criteria of "work commenced" will be applied on a whole development basis.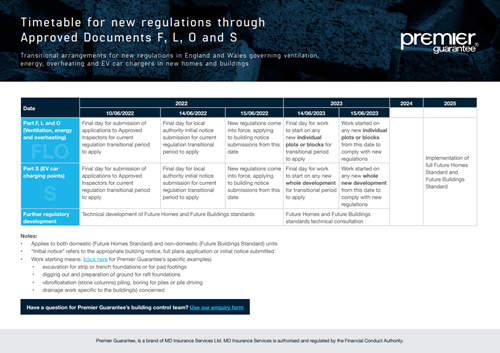 How do you define "work commenced"? (Building control only)
The Department for Levelling Up, Housing and Communities (DLUHC) in its circular letter to local planning authorities of December 15th 2021 repeated its definition as to when work has commenced on a plot or site.
The commencement of work would "usually be marked by work" such as:
Excavation for strip or trench foundations or for pad footings
Digging out and preparation of ground for raft foundations
Vibrofloatation (stone columns) piling, boring for piles or pile driving
Drainage work specific to the building(s) concerned
Premier Guarantee's building control service expands on this definition with a series of examples.
Foundations for a substantive start:
An Independent pile that forms part of the building
A strip or trench foundation concreted to a full elevation per plot
Raft foundation excavated with compacted subbase installed
Shared basement car park substructure below multiple blocks commencement of all plots.
Drainage work specific to the building(s) concerned:
Drainage installed within the curtilage of each plot and connected to the main sewer
Alternatively, all drainage installed and backfilled within the curtilage of the plot ready for connection
DLUHC went on to list the following work areas that "would not be likely to constitute" the commencement of work:
Removal of vegetation
Demolition of any previous buildings on the site
Removal of top soil
Removal or treatment of contaminated soil
Excavation of trial holes
Dynamic compaction
General site servicing works (e.g. roadways)
How do you define "work commenced" for warranty cover?
Where a Premier Guarantee warranty product is provided, these additional details should be satisfied.
Next steps
We anticipate many developers will work towards the June 2022 transitional deadline date to mitigate potentially complex scenarios of different building regulations applying to individual homes or buildings in the same development.
If you need any further information or clarification please use this enquiry form or you can discuss your plans with your Premier Guarantee Building Control Surveyor or your Account Manager.
View the Approved Documents collection on the Government website.
---
Read more articles on the Resource Hub and sign up to receive our blog round-up.
Every care was taken to ensure the information in this article was correct at the time of publication.