This week is National Apprenticeship Week and its theme is "Skills for Life". Premier Guarantee is proud to be building that future by training the next generation of Building Control inspectors essential to the future success of the housebuilding industry.
But what does an apprenticeship with Premier Guarantee involve? We asked Chris Andrews to tell us in his words.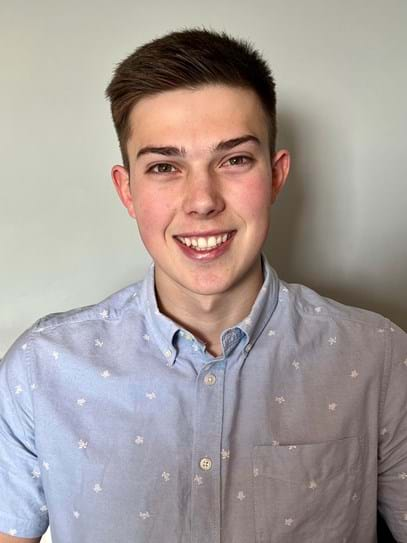 Chris, give us an overview of your role, what does a typical day look like?
I have a wide variety of tasks and training each week, so I have the pleasure of completely different days. My week includes one day of technical training online with other apprentices and more experienced members of the team. We cover topics such as timber superstructure, flat roofs and balconies, and basements. We often have quizzes to check on our progress, and it is good to be able to share experiences.
One day is spent shadowing a surveyor on sites that are currently under construction, learning from them directly whilst discovering more about my future role, and allowing me to apply the knowledge gained from the training.
I attend the University of Westminster in London one day a week, working towards my degree and chartership. We have lectures and one-to-one sessions with our tutors. The remaining two days I work from home completing administrative tasks, liaising with clients, surveyors and other members of the company.
What new skills have you learned or developed since joining?
Since starting I have greatly increased in confidence, and my communication skills have improved including giving presentations during company monthly meetings, tech training, and at university, I was initially quite nervous, but I am now much more comfortable and this helps a lot when contacting clients. My critical thinking skills have developed due to shadowing the surveyor on site. My technical knowledge in relation to building regulations is increasing daily.
How much support do you receive from your training provider?
I have received so much support including the weekly technical training and weekly meetings. Everyone in the company is more than happy to help with any tasks or questions regarding work, training, university and coursework or the industry in general. It has been fantastic!
How valued do you feel by Premier Guarantee?
Everyone in the company has made me feel incredibly welcome! I regularly receive feedback and encouragement, and feel very much part of the team.  I have been really surprised and impressed at the additional benefits you become entitled to, especially after you have been employed by the business for more than six months.
Would you recommend an apprenticeship and why?
Go for it, it's a fantastic opportunity! Make contact with the company and ask to have a chat with a surveyor to find out more about their role.
You might feel unsure at first and a bit daunted that there's loads to learn but it's a really friendly company and everyone will help and will do their best to support you.
It is such an amazing opportunity to gain work based experience while getting a qualification and earning. I would, and have, highly recommended apprenticeships to friends and will continue to do so.
Where do you see your career developing in the future?
I am aiming to achieve my degree and chartership in the next four years, while gaining hands-on experience. Once qualified I want to see how far I high I can progress my career within the UK, as there are so many opportunities and routes to take within the business. I hope to be involved in the future with mentoring apprentices, as I would like to give something back. I will enjoy passing on what I have learned.
---
Read more articles on InSite and sign up to receive our InSite article round-up.
Every care was taken to ensure the information in this article was correct at the time of publication.