With the Building Safety Act comes key changes across the construction industry.

The Act names the Health and Safety Executive as the new Building Safety Regulator (BSR) in England, which will have three main functions.

As well as overseeing the safety and standards of all buildings and leading implementation of the new regulatory framework for high-rise buildings, the BSR will also help and encourage the built environment industry and building control professionals to improve their competence.

The Building Safety Regulator will independently oversee building control bodies (BCBs) and their professionals.

The new approach to building control oversight will apply to BCBs in:


local authorities
registered building control approvers (RBCAs)


It will cover:


the performance of BCBs
the competence of the professionals supporting the delivery of building control functions
What is the current system?

Currently, the Government, specifically the Departments for Levelling Up, Housing and Communities (DLUHC), is responsible for regulation and policy.

The local authority:


has a responsibility for building works within its area
has a duty to operate as a building control body in their area and you can have an Approved Inspector undertaking building control as an alternative
have to notify the local authority when they undertake BC work in their area


The Approved Inspector is currently registered with CICAIR and has to meet their standards and code of conduct. CICAIR (Construction Industry Council Approved Inspectors Register) are authorised by the Government to operate this scheme.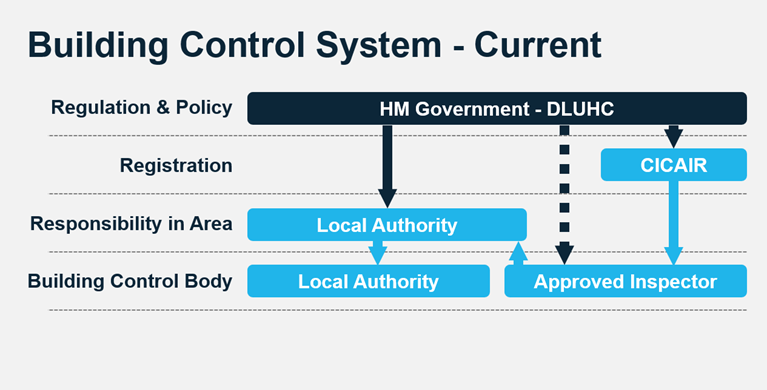 Why the change?


Increasingly the previously established linear route of applying for, and the consideration of, building regulations following planning approval is no longer a viable approach particularly on more complex developments.

This has been magnified by the introduction of new and updated regulations particularly in relation to fire safety, overheating in high risk areas and energy conservation.

There is therefore a need to engage with a BC body on a pre-application basis to discuss compliance with the building regulations at early stages in the design process.

As a building control body, Premier Guarantee are increasingly involved with the analysis of RIBA stage 1 designs advising on compliance with the building regulations.


What is the proposed new system?


There is now a new category of high-risk building, splitting the regime and although the Government will still make regulation, it is under the advice of the regulator who will be overseeing the system.


Key proposed changes:


For HRB 18m+, the Building Safety Regulator are responsible
CICAIR is effectively replaced as the Building Safety Regulator will oversee the entire industry
Local authorities will still generally be responsible for all works within their area and when operating the building control functions the local authority will become known as the Building Control Authority
Approved Inspectors will become Registered Building Control Approvers. They can still undertake any work other than the High-Risk Buildings by submission of initial notice to the local authority
The Building Safety Regulator, Building Control Authority and the Registered Building Control Approver will all need work undertaken by Registered Building Inspectors – the new register will include stringent competence requirements underpinning the industry
The BSR will oversee the registration of Registered Building Inspectors and there is the option for the Building Safety Regulator to use the Building Control Authorities and Registered Building Control Approvers to undertake the building control function via the Registered Building Inspectors



Click below to see our dynamic chart on the proposed building control system: