As new standards for energy efficiency come into force and electric vehicle charging points become mandatory, the amount of mechanical and electrical installations in new homes is increasing.
Updates to building regulations covering fuel and power conservation, ventilation, overheating and EV chargers make new demands of builders and developers to create homes that take significant steps towards 2025's Future Homes Standard and its ban on fossil fuel heating.
Premier Guarantee supports homebuilders who construct new homes and buildings that minimise carbon footprints and reduce energy needs, in turn making them more affordable for residents and users to run.
Innovation can be risky. That is why our structural warranty policies include additional cover as standard for a vast range of mechanical and electrical services.
What is Machinery Inherent Defects Insurance?
Modern homes are becoming increasingly complex with up to an estimated 20% of construction costs relating to the mechanical and electrical services that support them. For some commercial buildings this increases to as much as 40%.
These services can suffer defects caused by poor design, materials or workmanship. These risks are currently exaggerated by the rapid rate of technology development and a constrained supply of both materials and trained installers.
Premier Guarantee customers can cover defect risks relating to mechanical and electrical services through our Machinery Inherent Defects Insurance (MIDI).
How does it work?
MIDI cover is provided with our structural warranty policies as follows:
| | | | | | | |
| --- | --- | --- | --- | --- | --- | --- |
| Policy type | New homes for sale | New homes for private rent | Private Rental Select (Build to rent) | Social housing | Commercial | Completed |
| Period | 5 years from completion | 5 years from completion | For the policy duration from completion | 5 years from completion | 5 years from completion | 5 years from completion |
| Excess | £500 | £500 | Variable | £500 | £1,000 | £500 |
The diagrams below describes the range of installed mechanical and electrical services MIDI covers in both single home and apartment block scenarios.
In terms of items particularly relevant to the Future Homes Standard, depending upon the issue, MIDI cover could protect:
Air and ground source heat pumps
Heating, ventilation and air conditioning systems
Mechanical ventilation heat recovery (MVHR) units
Photovoltaic panels and power storage fuel cells
EV charging points
Energy meters and building management systems
Traditional sprinkler systems*
Please always refer to the wording of your policy for the extent of cover provided and for any list of exclusions.
*Traditional sprinkler system in accordance with BS 9251 - other fire suppression systems subject to approval
Residential apartment block
Typical building mechanical and electrical support services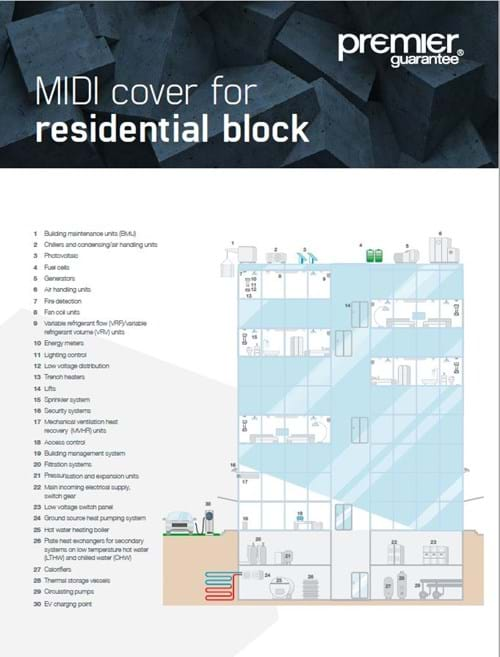 Diagram shown for illustrative purposes only. For regulatory guidance, please refer to your building control function. For Premier Guarantee warranty guidance, please refer to our Technical Manual.
Single home
Typical building mechanical and electrical support services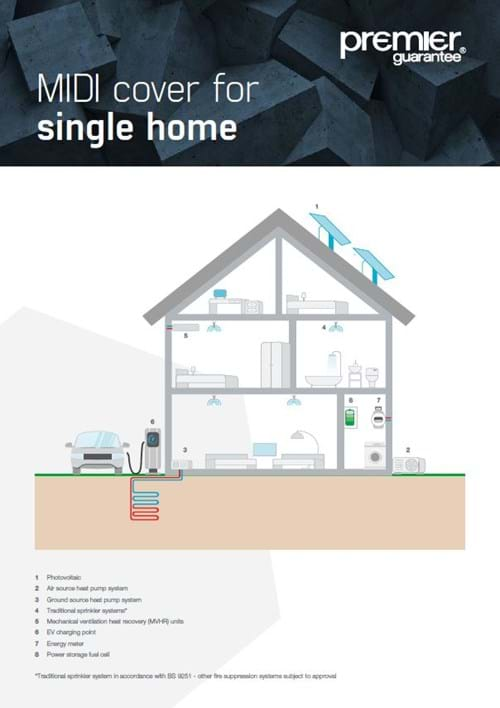 Learn more
Find out more about our MIDI cover.
Ready to apply for warranty cover? You can apply online here.
Note: Any information related to policy cover is provided as a guide and should be read in conjunction with the full policy documents.
---
Read more articles on the Resource Hub and sign up to receive our blog round-up.
Every care was taken to ensure the information in this article was correct at the time of publication (August 2022). Guidance provided does not replace the reader's professional judgement and any construction project should comply with the relevant Building Regulations or applicable technical standards. For the most up to date Premier Guarantee technical guidance please refer to your Risk Management Surveyor and the latest version of the Premier Guarantee Technical Manual.