Our customers now have a choice as to which industry Code of Practice they wish to follow – the Consumer Code for Homebuilders (CCHB) or the New Homes Quality Code (NHQC).

Adhering to at least one of these codes is a requirement of our warranty service. Here we outline the key details of both.
What are the codes?


CCHB


The CCHB has been in place since 2010

Premier Guarantee was a founder member

It is led by a management board of industry experts

The code applies to over 95% of new-build homes in the UK

Consumer complaints about breaches of the code are managed through an independent dispute service

Consumer enquiries are handled by a government sponsored contact centre

It is independently accredited by the government-approved Consumer Codes Approval Scheme (CCAS), administered by the Chartered Trading Standards Institute (CTSI)


NHQC


Formally constituted as a legal entity in January 2021

The NHQC is a new voluntary code operated by the New Homes Quality Board (NHQB)

Consists of board members appointed with representatives from across the sector

It is independent of Premier Guarantee and other warranty providers

Developers can register with the NHQB, prepare to adopt the code and then activate their registration on an agreed date

Oversaw the appointment of a New Homes Ombudsman Service (NHOS)

What support do the codes provide?
CCHB
The CCHB provides a programme of training, assessment, and support to encourage continuous improvements in customer service

It also provides a fully-independent and government-approved Alternative Dispute Resolution Service

Premier Guarantee customers can also take advantage of free marketing materials that promote the benefits of the code to residents and building users

NHQC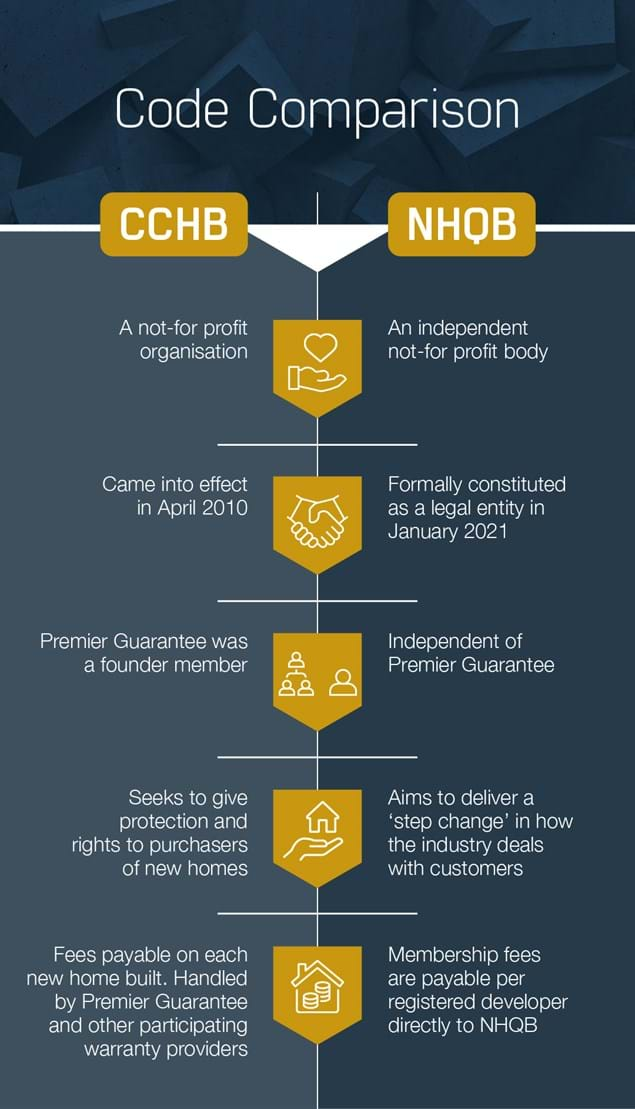 In their own words
CCHB


"The Consumer Code for Home Builders is the largest and most established voluntary new homes code, having been in existence for more than 12 years and currently covering 95% of the new homes market across the UK."

"In that time, we have helped to drive up standards by setting clear requirements, providing tools designed to make the process of buying a home fairer and more transparent, and helped the industry learn from past mistakes through a mixture of training, information and sanctions."


- Noel Hunter, CCHB Chairman 
NHQC
"This powerful new code is a central plank in our work to drive up the quality of new build homes and strengthen redress for customers."

"It fills the gaps in existing protections and puts considerably more requirements on builders in terms of how they deal with their customers and any issues they have with their new home."

"I firmly believe that, whilst challenging to implement, the new regime will deliver a step change that the industry will ultimately recognise brings huge benefits for both their customers and them."

- Natalie Elphicke, OBE – NHQB Chairman



Where can I find out more?

You can learn about how we are relaxing our stipulation surrounding these codes in our recent blog post.

Further details about the CCHB can be found on their website.

If you would like to learn more about the NHQC, click here.
---
Read more articles on InSite and sign up to receive our blog round-up.
Every care was taken to ensure the information in this article was correct at the time of publication (November 2022). Guidance provided does not replace the reader's professional judgement and any construction project should comply with the relevant Building Regulations or applicable technical standards. For the most up to date Premier Guarantee technical guidance please refer to your Risk Management Surveyor and the latest version of the Premier Guarantee Technical Manual.
Ref: MK-3402