Vibro Menard is a specialist ground improvement, design and build subcontractor that work on a range of construction projects from small residential developments to major infrastructure schemes. Part of the wider Menard Group, their innovative ground improvement techniques serve as alternatives to traditional base solutions such as dig out and replace or piling. We caught up with Matthew Wood, Regional Business Engineer, to find out about a solution that's proved to be a game changer in the industry: Controlled Modulus Columns (CMC).
Can you explain CMC and why this technique was developed?
CMC is a form of rigid inclusions and is a technique that was created and developed by Menard in the mid-90s allowing the construction of regular shallow foundations. It involves installing a group of vertical concrete or mortar columns into the ground to create a composite (soil+CMC) material. The system is a form of ground reinforcement with the loads from a structure being shared between the inclusions and the soil in between via end bearing and skin friction.
The technique was developed to bridge a gap in the market where ground improvement techniques such as vibro stone columns were not applicable on particular sites due to high loadings or very soft soils. Previously these sites would have reverted to a costly piled system utilising pile caps and ground beams whereas with the CMC system they can maintain a regular shallow foundation design.
What are some of the benefits to using CMC?
The system enables the construction of regular shallow foundations without the need for pile caps and ground beams. There is no pile cropping required, the CMC heads are simply trimmed by a small excavator on the day of installation. It's a versatile system that can be used in the majority of ground conditions including very soft clays and organic material. There are no arisings as CMC are installed using a displacement auger. It's a vibration-free, low noise process. In general, we can provide significant savings on both cost and time over more traditional techniques.
Is CMC more environmentally-friendly?
It can be seen as more of an environmentally-friendly solution over other techniques such as piling. CMC does not need to penetrate as deep and with a narrow diameter, less concrete is used. They are generally unreinforced thus reducing the carbon footprint of the product and they use low-strength concrete which requires a lower cement content compared with traditional piling.
The displacement technique means that there are no arisings produced which is beneficial on sites with contaminated soils and to reduce site traffic. CMC minimise the risk of creating preferential pathways compared to solutions such as vibro stone columns.
How did Vibro Menard benefit from working with Premier Guarantee?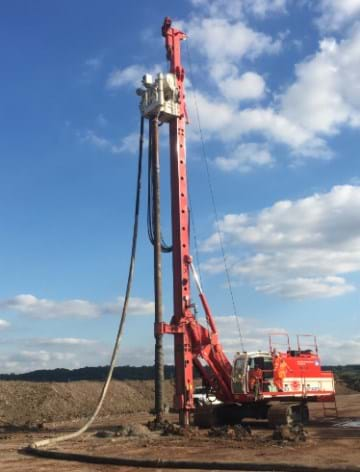 CMC is already an established technique in the UK construction market following several years of hard work from Vibro Menard with the system being used in all sectors including commercial and infrastructure projects. However, due to the warranty system used to regulate the housing sector, CMC had not been used, leaving a big proportion of the market.
In order to enter the residential market, the system needed to be accepted by warranty providers so we met with Premier Guarantee to explain the system and how it is designed and installed. Following initial agreements, the first project was carried out in Tunbridge Wells where a high level of testing and quality control was undertaken to verify the system for Premier Guarantee. Following this, several more projects were completed on a case-by-case basis over a period of two years. During this time, Vibro Menard went through an external accreditation process with BBA at the request of Premier. This has now been completed and the system signed off, meaning it can be used on housing projects across the UK where Premier Guarantee is providing a warranty.
This opens up a large market for us which we are keen to build alongside Premier Guarantee with huge potential for residential projects in the future.
What are some of the projects you've worked on which use Controlled Modulus Columns?
Tunbridge Wells – Berkeley Group. This scheme was based over a former infilled landfill presenting challenges with variable ground conditions across the site plus a concern over creating preferential pathways for contaminants. The base solution for this project originally involved the use of driven piles within the landfill and vibro stone columns outside with some other plots based on regular strips with no ground improvement. This presented the issue of having varied foundations solutions with both ground beams and strip footings and also gave concern over creating pathways landfill contaminants through stone columns. VM offered a solution which utilised CMC across the whole site which harmonised the foundation solution allowing the use of only strip footings. The use of CMC also removed the concern over pathways as the concrete is pumped from the base of the column up to the surface, never leaving an open hole.
Bolton – Eldercot Road. The scheme involved deep-made ground and backfill material to depths of up to 20m. Original solutions discussed on the project were based around piling and digging out of the material which were not financially viable options. VM offered a solution using CMC meaning the contractor could construct regular shallow strip foundations across the whole project which brought substantial time and cost savings. We also provided a solution beneath the roads and hard standings on the project using a Bi-Modulus Columns technique, which is simply a CMC with a flexible vibro stone column head. This ensured the bearing capacity and settlements under the roads which were constructed with flexible tarmac surfacing.
What is Vibro Menard currently working on and what's next in terms of innovation for the company?
VM are currently very busy, both in housing and other sectors. The Menard Group is heavily focused on innovation with the next steps being improvement to the way we work on site. For example, Menard's research and development teams have recently rolled out a new, innovative rig computer which can track production, material volumes, drilling depths and much more with the information being available to view in real time on site or via a landing page on the internet.
Find out more about Controlled Modulus Columns and Vibro Menard.
Premier Guarantee offers a system acceptance process to help companies like Vibro Menard gain accreditation under our technical requirements, learn more about system acceptance.
Photos and video: © Vibro Menard
---
Read more articles on the Resource Hub or sign up to receive our blog round-up.
---