Mental Health Awareness Week is an opportunity for all of us who work in the construction industry to take a breath and consider our own wellbeing as well as our colleagues'.

In the wider world, anxiety and stress are common. In a recent study, a quarter of adults said they felt so anxious that it stopped them from doing things they wanted to do some or all of the time.

It is all the more important then that we are mindful of stress-management in our own industry. Whether it is deadlines, exams, budgets, post-pandemic concerns or indeed the current financial climate, construction can be an anxiety-inducing world.

A study conducted by mental health in construction charity Mates in Mind highlighted some startling statistics.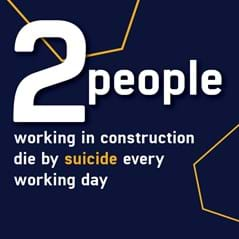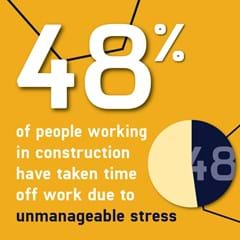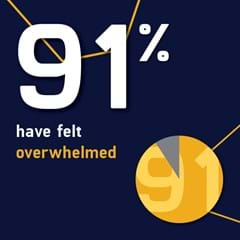 The stats:
• Two people working in construction die by suicide every working day
• 48% of people working in construction have taken time off work due to unmanageable stress
• 91% have felt overwhelmed
• 26% have experienced suicidal thoughts
What are some of the causes of stress in construction?
According to a report by the Institution of Occupational Safety and Health (IOSH), the causes of work-related stress in the construction industry relate to:
long working hours
heavy workloads and tight project deadlines
fear of redundancy
time away from home
lack of job security
a 'macho' culture preventing workers from seeking help
This work-related stress impacts on family life, not only in terms of the financial instability burdening the roles within the industry, but also in terms of the long travel times and separation from spouses and children while workers are away on distant sites.
Being a high-risk occupation, the worry about possible injury or even death while on site is not far from the minds of workers and their families.
Construction workers from a range of trades from bricklayers to ground workers to plasterers, told researchers from Mates in Mind and the Institute for Employment Studies (IES) that the continuing stigma of mental illness prevents them from discussing it beyond close friends or family members.
Additionally, a report by the Chartered Institute of Building found that 26% of construction industry professionals thought about taking their own lives in 2019 and 56% of construction professionals work for organisations with no policies on mental health in the workplace.
Furthermore, stress, anxiety, and depression account for one-fifth of work-related illnesses, resulting in 70 million days off sick per year at an estimated annual cost of £70bn-£100bn according to the National Building Specification.
So what can be done to help?
The Mates in Mind study highlights the importance of eliminating the stigma of mental health. The charity say that education and training are key in order for organisations to embed a positive culture change into workplaces.

This could mean managers undertaking training in order to spot potential mental health issues such as looking out for changes in employee performance and behaviour. Managers and leaders are encouraged to speak to those who are showing signs of poor mental health, as that first move can really help to get the conversation started.

It's important that the culture of the workplace is considered. Is there a stigma surrounding mental health in your workplace? Is it not considered as important as physical wellbeing?

Workers should be encouraged to discuss their problems through an open and transparent company culture. Workplaces can also bring about a change in mindset to staff and management by providing opportunities for wellbeing activities and events, and by building mental health awareness into workplace policies.
Links to helpful mental wellbeing resources:
Sources:
Mental Health in UK Construction: Mates in Mind
The Institution of Occupational Safety and Health
---
Read more articles on InSite or sign up to receive our blog round-up.
Every care was taken to ensure the information in this article was correct at the time of publication (May 2023). Guidance provided does not replace the reader's professional judgement and any construction project should comply with the relevant Building Regulations or applicable technical standards. For the most up to date Premier Guarantee technical guidance please refer to your Risk Management Surveyor and the latest version of the Premier Guarantee Technical Manual.
Ref: MK-2985

---