Grace Bradshaw was inspired to take on a new challenge and train to become a Risk Surveyor while working as an Account Manager at Premier Guarantee. We talk to Grace about why she decided to change careers, how she managed to juggle full-time work and part-time study, and her learning journey so far.
Can you tell us about your current role?
My role as Key National Senior Account Manager is to create long-term, trusting relationships with our customers and site contacts throughout the lifecycle of a development. A key aspect of this position is to assist in collating monthly management information and continually look for ways to improve processes and increase the satisfaction of both our internal and external customers.
Why did you decide to change careers and move into surveying?
I started at the company five and a half years ago in the Claims Department. It was my first office job and I knew very little about construction. It was here that I got my first glimpse of the technical surveying side of the company. After a year in that position, I was successful for an account handler role on Key Nationals, this is where my interest continued to grow as I was supporting six regional surveyors and got an insight into their day-to-day role. I decided to enroll at night school and then the journey began.
Now that I have completed my studies, I have accepted a role as a Trainee Risk Surveyor. This is going to be a transition over from my current role starting at two days a week. I am so excited to start this next chapter. I will be receiving in-house training one day and on-site training the next. I feel very lucky to have been given this opportunity to train as a surveyor.
What did you study to prepare you for your new surveying role?
The first course I completed was a Level 3 in Construction and the Built Environment at the City of Liverpool College where I was awarded a Distinction. I then enrolled at Liverpool John Moores University and studied Construction and Property (Building Surveying Pathway). I graduated with a Merit.
Studying during the pandemic was challenging, as it was for most people. We moved to online learning with the majority of our lectures being pre-recorded, which made it harder to ask questions or listen to my classmates' input as I was just at home watching it alone.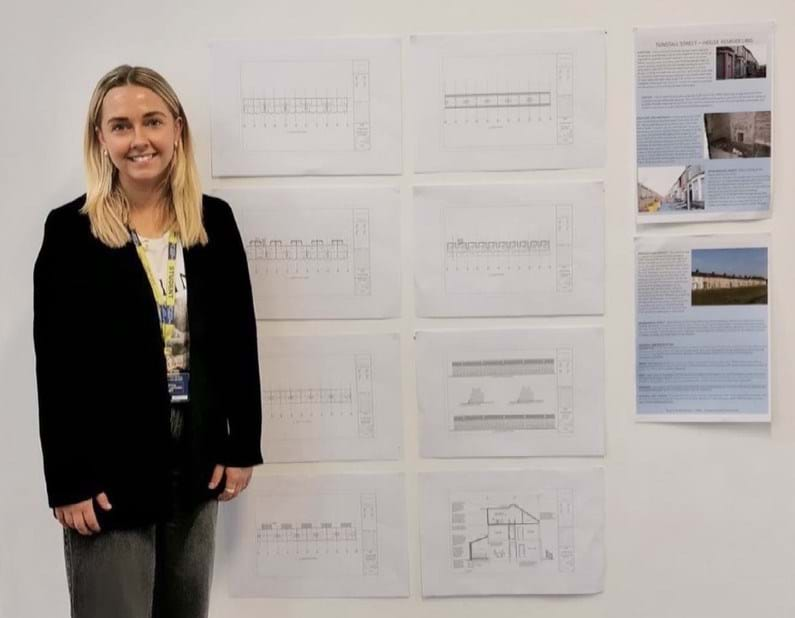 How did you find juggling work and study?
At first it was a big adjustment for me. I was used to working 9-5 with weekends off and not really having a care in the world. But I knew when I enrolled for my course it was going to be a culture shock. I had night classes two evenings a week and my weekends were taken up with completing assignments. At uni, I had a day each week dedicated to my studies. It was challenging because as an Account Manager I have clients who rely on me to provide them with anything they need and often can't wait for a response. But I am so lucky to work with a team that could support me. But even though it was a struggle at first, continuing to work full time was also such a blessing. I had help in work and I received a constant wage while being a student so I was able to save up to buy my first house while in university. 
What three things have you learnt that will help you in your new role?
I have learnt so much throughout my studies.
I have learnt how much support I have around me. As soon as my colleagues found out I had enrolled in college, the outpouring I received for help or advice was incredible, not just from my department, but from people I had never even spoken to. I knew if I ever needed anything explained I had so many people willing to help me. It was so reassuring especially during Covid/remote learning.
I also learnt how driven I am as a person. Before enrolling at college and university I don't think I would have ever described myself as driven. But when I started my courses, I realised I now had to manage a full-time job and night school and that I had to ensure I didn't fall behind in either of them. I made a few social sacrifices and decided to put 100% into this for the four years, which I am so glad of now.
Another thing I have learnt is to how to be organised. I thought this would be easy but anyone who knows me would've described me as the least organised person ever. All of a sudden I had to know exactly what needed to be done and prioritise my days accordingly, whether it was an assignment due or a report deadline in work. I planned my days the night before to ensure I was never behind. This will be so beneficial now with moving to my new role part time and managing two workloads.
What are you most looking forward to in your new role?
I am really looking forward to getting out on site. I have really enjoyed studying but I'm a hands-on learner so I enjoy seeing things in person rather than learning about them in a classroom. I am also looking forward to learning new things and facing new challenges.
What qualities do you think make a good surveyor?
I think one of the main qualities of a good surveyor is communication. The way you can say things can be taken in many different ways due to the way you communicate. I think attention to detail is an important quality for a good surveyor. Also, technical knowledge – it is important on site that you have good technical knowledge if you are telling someone the work is incorrect, you need to back up your answer with a clear explanation as to why it's incorrect.
What do you enjoy doing outside of work?
I enjoy spending time with my family and eating nice food, drinking rosé with my friends. Oh, and also watching Liverpool win the Premier League. 
If you've been inspired by Grace's story, why not find out what opportunities are available at Premier Guarantee?