Home should be a sanctuary. But for many private renters this just isn't the case. According to a survey by YouGov and Shelter, 45% of private renters experience anxiety as a result of housing concerns. The instability imposed on tenants is a big factor in the cause of their stress. Properties that are not fit for purpose or poorly maintained, precarious tenancies, anti-social behaviour in neighbourhoods, frequent moves, distrust of agents and landlords are some of the reasons behind the rise in mental health issues amongst renters. Finding a good, secure home is not always easy.
Pandemic resets priorities for tenants
The coronavirus pandemic has added further complexities to the search for long-term, ideal dwellings. Changes in lifestyles have caused homebuyers and renters alike to reprioritise what is most important to them when choosing a home. With the effects of the pandemic bound to be with us for the long haul, people are looking for properties that fit in better with how they live, work and play.
Rethinking design in light of lifestyle changes
These factors are changing the way purpose-made, private rental properties are being designed. In fact, Build to Rent (BTR) developments appear to be leading the way in providing homes adapted to a more modern way of life.
With many companies adopting more flexible remote working policies, there is increasing demand for office space within the home. While an extra room is ideal, when it comes to smaller square footage properties such as apartments, flexible layouts with space for workstations are going to win out. In purpose-built developments, this might also mean designing communal workspaces and bookable meeting rooms within the building. So, it's good riddance to working on the kitchen table.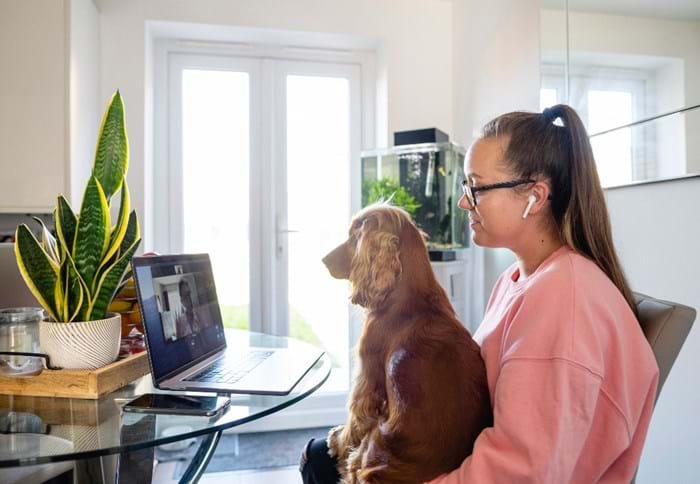 The lockdowns of 2020 and 2021 have also brought about a rise in the demand for garden and outdoor space. According to analysis by Zoopla, the top search term used by renters in 2020 was 'garden' and at fourth place was 'balcony'. Many studies have shown a clear link between nature and green spaces and maintaining good mental health. In an increasingly urbanised world, our access to green space is often limited. Designers are coming up with inspiring and clever ways to incorporate outdoor space in apartment living that are beyond the scope of the balcony, whether it's using green walls or creating parkland settings within the grounds. Communal roof terraces where tenants can not only soak up the summer sun but also grow vegetables, meet neighbours for a BBQ and gather for residents' events help to reduce isolation and enhance general wellbeing.
The pandemic has also driven us towards being more locally-oriented. Communities have become more important as we stay closer to home. Build to Rent architects are picking up on this trend and adopting placemaking approaches. Ready-made communities with their own shops, cafés and gyms are being built alongside rental properties to facilitate tenants' needs and wants. Many newer, luxury apartments are now designed with resident-use only areas such as dining rooms, games rooms, lounges and cinemas. These self-contained communities are helping tenants to feel safe and secure in their own micro-neighbourhoods.
New approaches to purpose-built developments
In a recent survey by HomeViews, design ranks high with renters. Purpose-built BTR developments score higher than repurposed buildings, with former office buildings being least desirable. The private rental sector is attempting to shake off a reputation for designing characterless boxes for rent. There is much more consideration in sourcing and developing sites that fit seamlessly into the context of the surrounding environment. Buildings that offer something unique in terms of features and are sympathetic to the heritage of the area provide tenants with a greater sense of belonging and homeliness.
Climate change, health and BTR
During the lockdowns, there was an increase in the take-up of exercise. And in light of climate change, many of us were encouraged to find ways to reduce our carbon footprint. It's no surprise then that cycling has become very popular both for commuting and as a go-to form of exercise. Build to Rent developers are conscious of building in areas that are not only close to transport links but also make it easier for residents to commute by bike. There's a growing requirement for cycle storage in buildings and even bicycle workshop spaces as people's attitudes and lifestyle choices adapt to the new normal.
Feeling secure
It's not just the design and functionality of buildings that are important when it comes to providing tenants with stable and happy homes. Ensuring that tenants feel secure and satisfied requires a professional and friendly approach when it comes to building management. Value-added services such as a 24-hour concierge, housekeeping and dedicated maintenance are high up on tenants' wish lists. But regardless of the level of services on offer, having someone helpful on the end of a phone or email when a problem arises is fundamental in these already uncertain and stressful times.
When it comes to looking for long-term homes, tenants will gravitate towards properties that take into account lifestyle changes brought on by the pandemic and those that are mindful of their wellbeing. Already making real headway in these areas, BTR needs to continue to adapt to ensure properties are fit for purpose. For a fuller picture of what tenants are looking for, HomeViews have produced a useful report based on resident reviews of Build to Rent properties which you might want to check out.
Premier Guarantee offer structural warranties for a range of schemes including private rental. Find out more about our PRS Select cover.
---
Read more articles on the Resource Hub and sign up to receive our blog round-up.
---