Not all structural warranty providers approach plot and site inspections in the same way. In this article we explain how Premier Guarantee ensures construction works comply with the requirements of our warranty Technical Manual.
Download our site inspection process guide.
Our approach to warranty site inspections
Premier Guarantee takes a risk-based approach to site inspections. At the start of works we carry out a site risk assessment to determine key risk areas. Using this information, we implement an inspection regime that combines assessment of those risk areas with a more typical key stage programme of site visits.
The three main elements that make up our site risk management process are therefore:
Site Risk Assessment
Key Risk inspections, as determined by the site risk assessment
Key Stage inspections
Site Risk Assessment
Our Risk Management Surveyors conduct a risk assessment of the site, covering 50 questions and based on the following criteria:
Ground conditions and site exposure
Complexity of the Design specification
Materials and systems proposed
This assessment allows our surveyors to judge the probability of any potential issues arising as construction takes place. From this we create a bespoke inspection process unique to the site. For example, many typical risks are associated with water ingress. Any build that incorporates basements, flat roofs and parapets may influence our risk-based inspection programme.
The risk assessment can be adjusted throughout the build to reflect the standards being adhered to and any changes in circumstances, whether expected or unforeseen during the site risk assessment.
Key risk inspections
The number of visits required, and at which stages of the build they occur, will depend upon where risks have been identified and to what level.
For example, any construction containing a basement will almost certainly require key areas of that basement to be inspected during its construction.
Key stage inspections
As well as identified risks, Premier Guarantee will also conduct key stage inspections that look at the critical stages of constructions.
Key stage inspections take into consideration the whole site and its progress. We typically include inspections covering the following stages:
Foundations excavations (or prior to concreting ground beams on piled sites)
Sub-structure (services and walls to DPC)
Superstructure
Roof

P

re-plaster (before covering)
Pre-handover​
What are the benefits of taking a risk-based approach to site inspections?
Risk-based inspections enable our surveyors to assess areas of risk such as difficult design details and the use of different materials. They provide the necessary technical expertise to help you comply with our technical standards and build quality homes and structures.
Risk and key stage inspections give our surveyors the opportunity to discuss progress in your build and so their inspection reports are proactive rather than reactive.
By working closely with you on site, our surveyors can flag any issues early on, help you avoid potentially costly delays to your build, and improve the quality of the finished structure.
Download our site inspection process guide.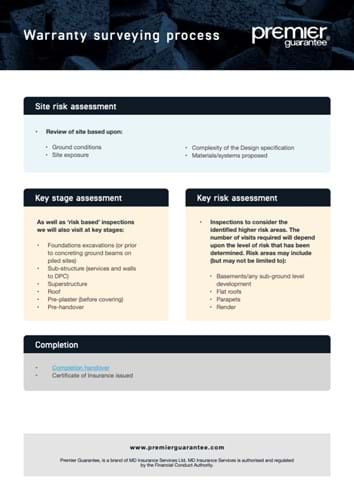 ---
Read more articles on the Resource Hub and sign up to receive our blog round-up.
Every care was taken to ensure the information in this article was correct at the time of publication. Guidance provided does not replace the reader's professional judgement and any construction project should comply with the relevant Building Regulations or applicable technical standards. For the most up to date Premier Guarantee technical guidance please refer to your Risk Management Surveyor and the latest version of the Premier Guarantee Technical Manual.