Caddick Construction has chosen Premier Guarantee to provide warranty inspection services and cover on a new £35m private rental development in Bolton, Greater Manchester.
Caddick has commenced work on build-to-rent specialist PlaceFirst's Central Street residential development which, once complete, will offer 167 much-needed new homes for long-term private rent, together with associated commercial units.
Slated to complete in 2025, the project will transform a three-acre brownfield site between the former Beales department store and the River Croal.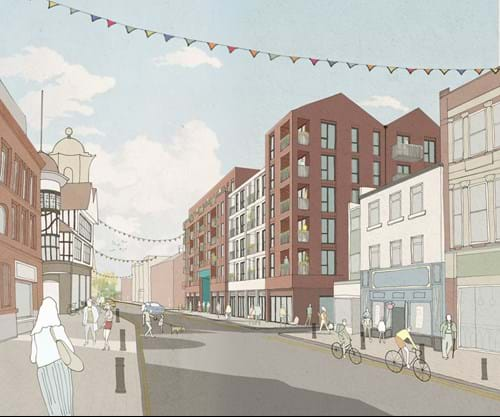 'Giving owners and tenants peace of mind'
It will feature a mixture of apartments and townhouses where residents will also benefit from rooftop terraces, gardens, a network of pedestrian-priority streets as well as a square and courtyard.
The project team includes architect Levitt Bernstein, landscape designer CW Studio and engineer Alan Johnston Partnership.
Premier Guarantee Business Development Manager Caroline O'Brien said: "Our team are really looking forward to working alongside Caddick Construction in support of this significant development, providing structural insurance cover that will give owners and tenants peace of mind.
"It will be inspiring to follow this project's progress and witness a town centre brownfield site become a new thriving community of high quality, energy efficient homes and outside spaces for residents."
The development forms part of Bolton Council's £1bn masterplan to transform the town centre by complementing the historic fabric of the former mill town through a mix of interesting, high quality buildings.
---
Read more articles on InSite and sign up to receive our blog round-up.
Every care was taken to ensure the information in this article was correct at the time of publication (June 2023). Guidance provided does not replace the reader's professional judgement and any construction project should comply with the relevant Building Regulations or applicable technical standards. For the most up to date Premier Guarantee technical guidance please refer to your Risk Management Surveyor and the latest version of the Premier Guarantee Technical Manual.
MK-3564