Ninety percent of all modern housing now uses prefabricated truss rafters for the roof support structure. This equates to about 60 million truss rafters in service in the UK today. Although failures are rare, it is vitally important that Building Control and Warranty Providers are familiar with the principles of their installation. Trussed rafters are defined as triangulated timber frameworks positioned at close centres (generally 600mm) to form roof structures.
The idea of trussed rafters arrived in the UK from the America during the 1960s and quickly became the standard method of constructing roof structures in domestic construction.
Trussed rafters enabled Architects more freedom with the layout of the upper floor by avoiding the need for internal load bearing walls. Consequently, the ground floor layout and upper floor layout need no longer harmonise. Kitchens could be bigger than the bathrooms above them, and bedroom layouts could be independent of the lounge and dining room layout. It is estimated that the use of truss rafters as an alternative to a traditional cut rafter and purlin roof equates to a saving of approximately 40% in material and labour costs. The level of skill involved to erect truss rafters is also considerably less than the equivalent traditionally erected roof support structure.
Typical truss rafter showing general terms used for components.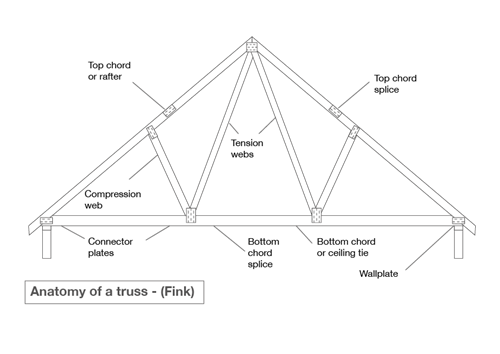 The most important characteristic of trussed rafters is the action of a framework. Beams carry load by bending; frameworks carry loads by direct force i.e. stretching or compressing. There is some bending in the top chord and in the bottom chord (due the application of the roof and ceiling loads). The effective span of the top and bottom chords is reduced due to the presence of internal webs.
Alterations to truss rafters 
A truss is so much more than the sum of its parts. Any alteration to a truss once manufactured is likely to be involved and costly. Surveyors and Inspectors need to be vigilant in spotting unauthorised alterations. However, minor alterations of the overhanging section for situations where it is to be supported in a bracket nailed to a girder truss are permitted - see below.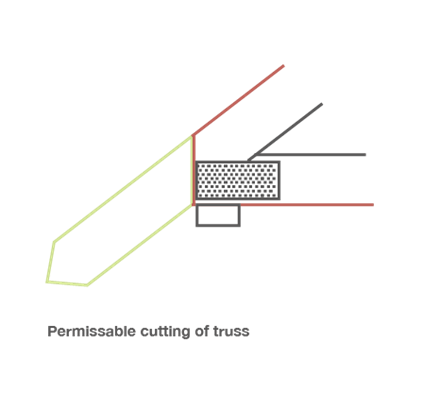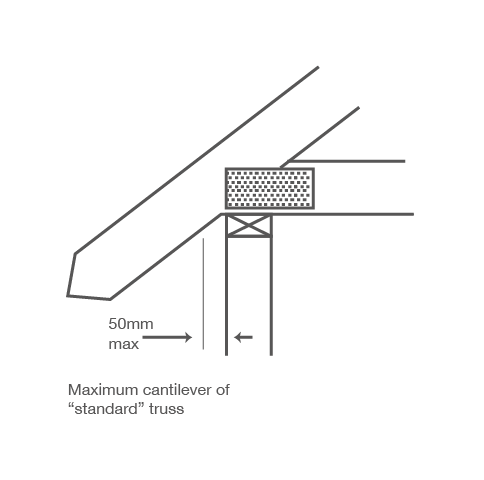 All Truss Rafters, including Attic Trusses, generally should not be cut or altered in any way from the original engineer's design apart from that shown above. Truss Rafters are designed with economy of materials as a fundamental principle, with little allowance for additional loading other than the design proposals. Ordinary Truss Rafters must not be drilled or notched to facilitate services. There are very limited zones in Attic trusses that can be drilled, but in general, all services should be run in the dead spaces on either side of the loft room and looped back between the spacing between the Attic Trusses.
Permissible drilling zone for Attic Trusses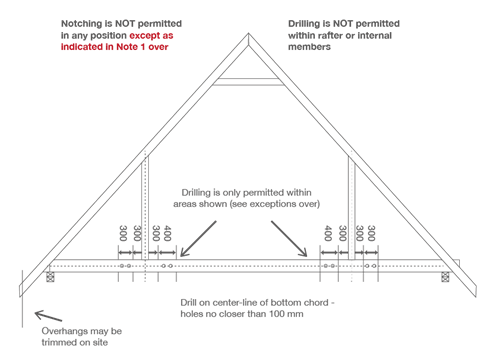 Note 1: Notching the bottom chord of 'Room in the Roof' (Attic) Trusses to a maximum depth of 5mm is permitted in order to accommodate gable lateral restraint straps as required by Building Regulations.
Bracing for truss rafters
Individual truss rafters, including attic trusses, are fairly unstable and need to be linked together by bracing.
Temporary Bracing for truss rafters
This is used to restrain the trusses during construction.
Truss Stability Bracing
This is permanent bracing which holds the trusses vertical and straight and prevents any out of plain buckling of the members. Note: The engineer's structural calculations are based on the trusses being vertical - if trusses are not vertical then the calculations become null and void.
Wind or Wall Bracing
This is bracing added into the roof in addition to the truss bracing that is used to stabilise the wall from wind loads.
Chevron Bracing
Chevron bracing is needed to ensure stability on duo pitch roof spans over 8m and mono-pitched roof spans over 5m span. The arrangement of the braces is shown below.
Roofing Battens
Roofing battens are considered as an integral part of the bracing, and should not be more than 400mm centred and can be butt jointed centrally on a truss. They should not all be joined on the same truss. A maximum of 1 in 4 on any rafter (only one butt jointed on a truss in each set of 4 battens).
Trusses up to 12m span must be placed at a maximum of 600mm centres. Timber used for bracing must be a minimum of 89mm wide and 22mm thick. Bracing must be fixed to every truss using two 3.35mm galvanised wire nails. Bracing should not be butt jointed but lap jointed over at least two trusses.
Longitudinal bracing is fixed at each unsupported joint and extending the length of the roof and butted tight up against the party or gable wall. These should be as close as possible to the joint to allow further diagonal bracing to run through.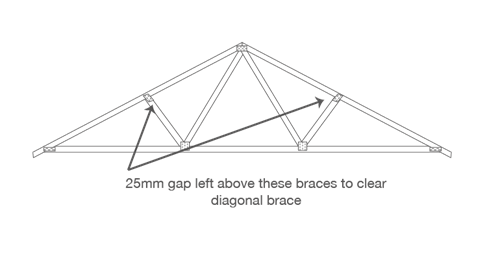 Diagonal Bracing is nailed to the underside of the rafters at an angle of approximately 45 degrees and run from the ridge to the wall plate to which it is fixed. It must be extended over the whole length of the roof with a minimum of 4 braces used. However, it may be omitted from no more than 2 trusses between braces and one truss at a gable or part wall.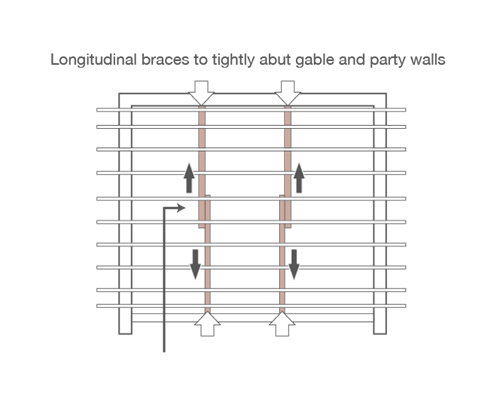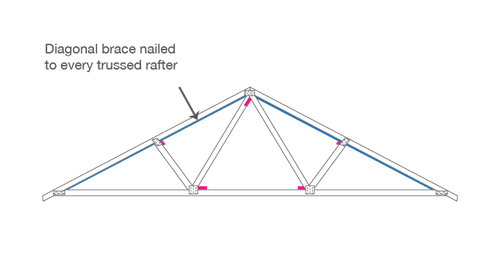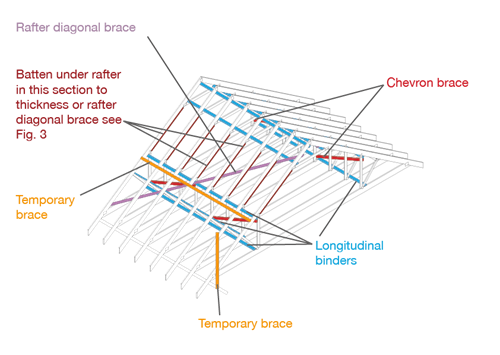 The diagonal bracing for Attic trusses can be placed internally and the inside of the rafters battened out to take the plasterboard. Alternatively, plywood diaphragms can be placed between the rafters within the sloping ceiling area.
Plywood Diaphragms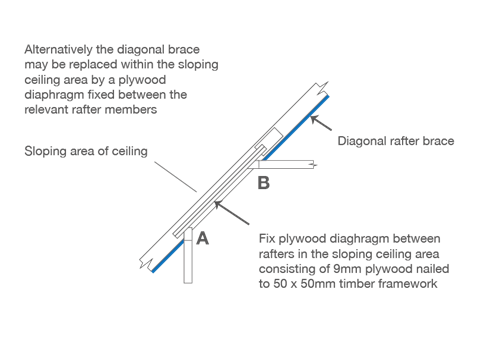 Chevron Bracing
Internal diagonal bracing battened out for plasterboard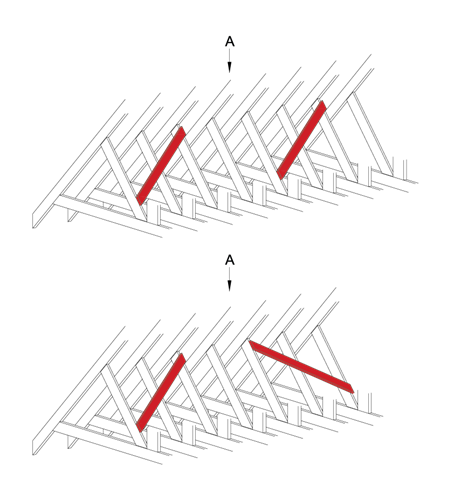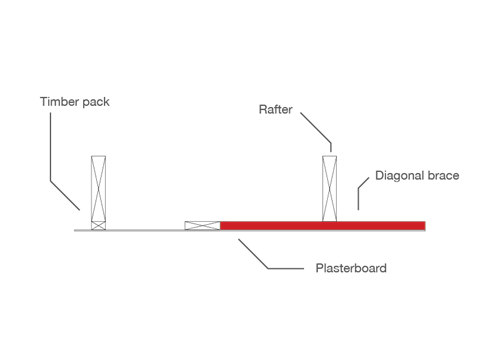 Lateral Support to Walls at Roof Level
Trusses rafter roof structure should be connected to external masonry. This is to provide necessary lateral support to walls at roof level. Connections must be made to the trusses using 30mm X 5mm thick galvanised or stainless steel straps, fixed to at least three trusses with noggins between with 3.35mm X 50mm long wire nails. Restraint straps should be spaced at a maximum of 2m centres at rafter and ceiling level including party walls.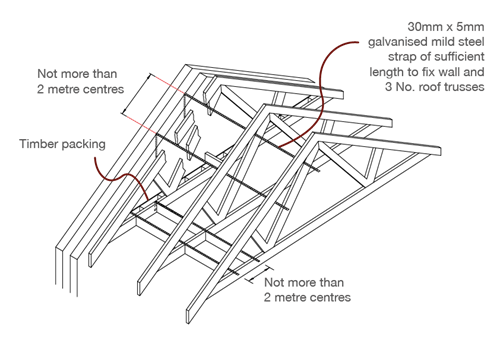 ---
Read more articles on the Resource Hub and sign up to receive our blog round-up.
---