Over its 86-year history, Hornsey Town Hall has racked up points in noteworthiness. The iconic building is one of the earliest examples of modernist architecture in the country. New Zealand architect, Reginald Uren, beat 281 other entries in a competition to design the civic headquarters in the heart of Crouch End. Its Art Deco grandeur has made it a popular filming location in recent years, having appeared in the multi-award-winning series, The Crown, and the Oscar-winning, Queen biopic, Bohemian Rhapsody. Extending its 'royal' credentials, Queen themselves played one of their first London gigs at the hall in 1971.
Far East Consortium have stepped up to restore the Grade II listed building back to its former glory while providing much-needed homes and a central hub for the community. We chat with Angela Walsh, Sales and Marketing Director at FEC, to find out more about this unique development steeped in history.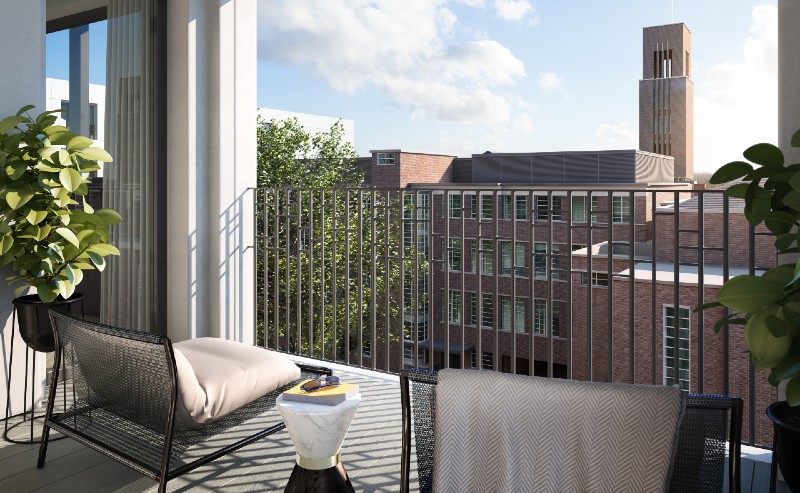 View of Hornsey Town Hall from balcony of apartment (CGI) © Far East Consortium
Tell us about Far East Consortium
FEC is a leading property conglomerate, listed on the Hong Kong Stock Exchange since 1972, with over forty years of experience across residential property development, hospitality and car parking ventures within Asia-Pacific and central Europe. FEC UK was established in 2012 to help facilitate growth in this market and has grown exponentially as a leading nationwide developer – creating vibrant places for people to live, work and play.
FEC UK is known for forging strong links with public bodies and private enterprises, bringing to fruition several flagship projects in collaboration with local government and housing associations. There is also a huge emphasis on building communities, to reflect the future of how buyers want to live and doing this with a great awareness of the cultural landscape of a location.
What are some of the highlights and challenges on this project?
Far East Consortium will be fully restoring the iconic Grade II* listed Hornsey Town Hall and Town Hall Square back to its former glory and delivering to the community a new Arts Centre, co-working hub, and hotel with rooftop bar and terrace. Plus, creating 146 new one-, two- and three-bedroom apartments located in the grounds of the Town Hall, to become a new place for living, working, visiting and creativity in the heart of Crouch End.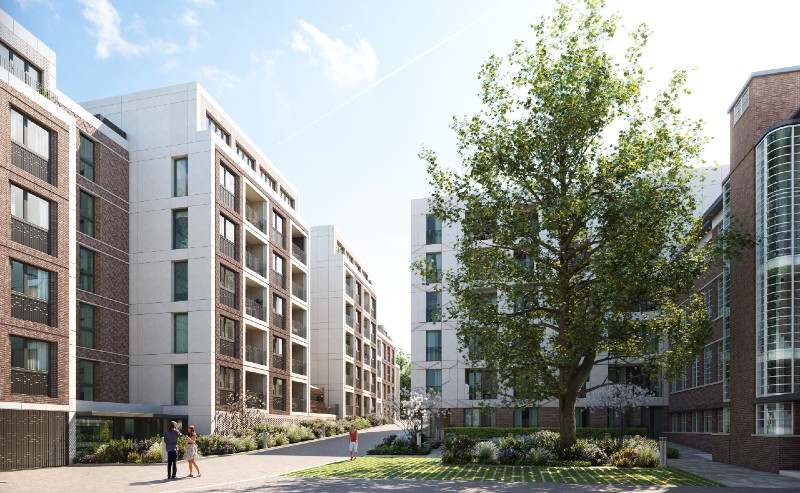 Apartments within the grounds of the Town Hall (CGI) © Far East Consortium
The highlights have been to work closely with our Arts Centre operator, The TIME & SPACE Co., and the local community in Crouch End to understand how they want to utilise the amenities and create an amazing Arts Centre. FEC is acutely aware of the hall's importance to the fabric of the area and the focus is on curating a rich programme of cultural and community events, festivals, markets, plus a café and restaurant that locals and residents will enjoy for generations to come.
Another highlight has been working with Make Architects and Ardmore, our constructors, on carefully restoring the many original Art Deco features of the building including the clocks, brass works, historic tapestries, furniture and lighting, which give the building its unique character. Far East Consortium takes great pride in preserving the stories of the past but also finding a way to make the development relevant for future generations.
In terms of challenges, the pandemic has naturally had some impact on footfall to our on-site marketing suite, but sales have been steady. A new marketing suite and Arts Centre reception will be opening in the summer in a more prominent position on the high street, as the sales and operations teams gear up for first phase apartment handover towards the end of the year and the development completion in 2022.
What are the three most interesting things about this development?
There are so many interesting things about this development given its history, but highlighting a few:
1. Built in 1935 to house Hornsey Borough Council, the Town Hall is one of the earliest and most iconic examples of modernist architecture in Britain. It was designed by New Zealand-born, Reginald Urenwho in 1933 won the architectural competition to design the hall against a field of 281 entries. Uren was later awarded the RIBA London Architecture Medal for 1935.
2. The main Assembly Hall at Hornsey Town Hall has witnessed a number of rock music's most legendary stars take to the stage, from The Kinks' Ray Davies playing his early gigs, through to Queen making their first ever London performance in 1971.
3. The Town Hall has also appeared in many films, TV, theatre and TV adverts over the years – such as Bohemian Rhapsody, which scooped four Oscars, Judy, that won Renée Zellweger 'Best Actress in a Leading Role' at the 2020 Oscars and the hit TV series, The Crown.
These are all great selling points to help buyers understand what they are investing in – a place with real cultural heritage that we hope to expand on.
How will attention to detail be apparent in this scheme?
The striking Art Deco features of Hornsey Town Hall provide the inspiration for the design of the new residential apartment blocks (Uren and Ayres) and the interiors of the apartments. Detailing such as replica door handles, chevron timber flooring and terrazzo-inspired kitchen worktop surfaces bring a unique sense of place to the living experience. The quality and variety of courtyards, walkways and gardens within the development mean that greenery is rarely out of sight, particularly important as buyers seek green space for wellbeing and a retreat from the hustle and bustle of London life.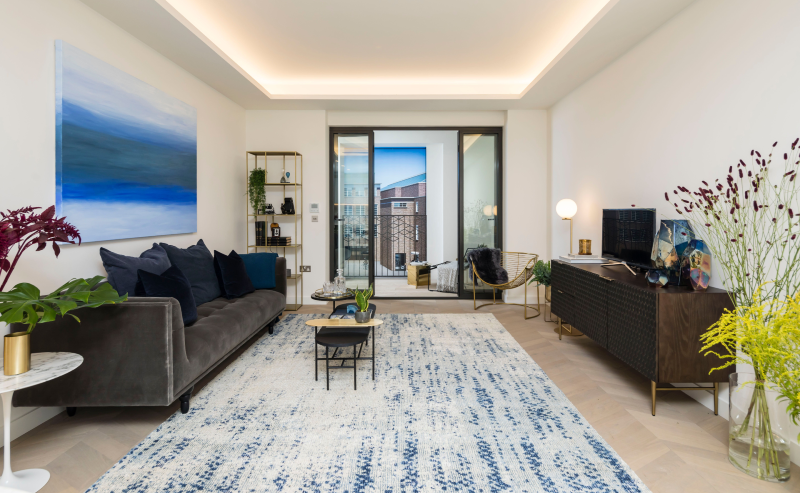 Interior of apartment © Far East Consortium
How important is placemaking in this development?
Creating a sense of place and a strong-knit community is something that has always been of great importance to Far East Consortium and something we take a lot of pride in when planning our developments. At Hornsey Town Hall, not only did we want to create a place to live, we also wanted to build a real community that will stand the test of time and become the heart of Crouch End for both buyers and existing local residents. The scheme blends old and new, celebrating and retaining the hall's historic features, whilst introducing services and facilities for modern city living.
The new homes are built around a thriving Arts Centre, with a co-working hub, eateries and a rich cultural programme of events. A new hotel will also offer a rooftop bar with spectacular views across London. At the heart of the development, the original Town Hall Square is also being improved, with a new open lawn, seating areas and seasonal planning providing a welcoming place for residents to socialise and engage with the community, and a hub for annual community events to take place.
How have you found the experience of teaming up with Premier Guarantee?
Working with Premier Guarantee has been a very good experience with a lot of collaboration from both sides. The team fully understood the product and what we were trying to achieve, and they came on board with FEC very early in the project, which helped streamline the process and made for a great partnership.
What are some emerging themes in construction and how is FEC preparing for the future of building?
One of the approaches FEC has taken in relation to our newest development, Consort Place in Canary Wharf, is working with market leader companies, such as GDR Creative Intelligence, who are business futurists that use trends to understand future living and shopping habits. This helps shape our vision and informs the decisions we make on future-proofing our developments for the good of the buyer and community. 
Sustainability remains key and looking to source sustainable or recyclable products and specifying energy-efficient products and systems, and/or materials that reduce the overall building energy usage. FEC is committed to using modern methods of construction and off-site manufacturing, and where possible, we adopt off-site pre-fabrication, which reduces wastage on site, increases quality control, reduces labour on site and the level of deliveries and hence CO2 emissions. 
Naturally, fire safety remains a top priority and adopting the latest guidance, which covers specifying non-combustible materials and undertaking comprehensive analysis and risk assessments. 
Overall, FEC's vision is to be agile and adapt to the fast and changing landscape, helped by having a strong and diverse supply chain and good communications and management chains.
What other projects are FEC involved in?
In the North of England, FEC is leading the regeneration of Manchester's Victoria North district – which will see the construction of more than 15,000 new homes over the next decade. In London, FEC's current projects (along with Hornsey Town Hall) include Consort Place and Ensign House in Canary Wharf.
Aspen at Consort Place in Canary Wharf is a residential-led development which includes a hotel, education and healthcare facilities, along with a restaurant and bars surrounding a new public square. The apartments sit within two high-rise towers, with the larger, striking 65-storey tower offering views across the London City skyline along with state-of-the-art facilities.
Explore the Hornsey Town Hall development.
You can also take a virtual tour of Hornsey Town Hall before the refurbishment began.
If your next project could benefit from the expertise at Premier Guarantee why not explore our warranties and services? Get a quote today.